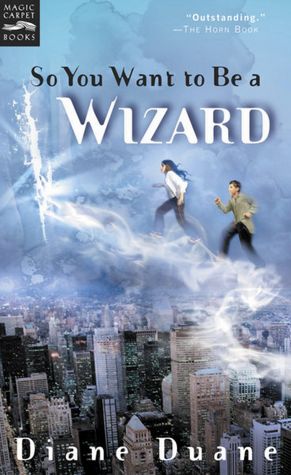 Title: So You Want to Be a Wizard 
Author: Diane Duane
Release Date: October 1, 2003
Source: Bought
Something stopped Nita's hand as it ran along the bookshelf. She looked and found that one of the books had a loose threat at the top of the spine. It was one of those So You Want to Be a . . . books, a series on careers. So You Want to Be a Pilot, and a Scientist . . . a Writer.
But this one said, So You Want to Be a Wizard. 
I don't believe this, Nita thought. She shut the book and stood there, holding it in her hand, confused, amazed, and suspicious. Delighted even. If it was a joke, it was a great one. If it wasn't . . .? 
David's Review:
So let me start off by saying that this is more of a recommendation for younger readers around 10-14. I still love the series, so older people can read it too.
I picked this book up back when I was 11 years old. I was always drawn to things like witches and wizards. Spells and charms were awesome and this book promised so much of that. I mean, just look at the cover. They are walking on what looks like clouds, but its actually very stiff air.
Nita is a young girl about 10 or so, and she's bullied all the time by some hateful girl and her gang. Though Nita has had many self defense classes, she can't bare the thought of actually physically hurting someone else. So she does what she can, she hides. In a library nonetheless. Nita loves to read and knows this library inside and out. So she hides downstairs in the kids section where she finds the book,  So You Want to Be a Wizard.
By taking an oath to defend life, and save the universe from dying, her journey begins. She soon meets Kit, who quickly becomes her best friend and they are thrust into an alternate reality. Nita needs to find a very important object in this new world. Times running out and if she can't find it, she wont save our world and this new world from perishing.
I loved this series, and currently there are 9 books. It's great for introducing young kids to the world of literature. It has stable relationships, awesome spells, new worlds, and fun plots. I seriously recommend all of them except book number 9.
10/10